All of us, including our Brussels intern - Chris, have just finished the first of our three days of intense talks and meetings in the City. Today we met two Lords - Lord Griffiths and Lord Alton.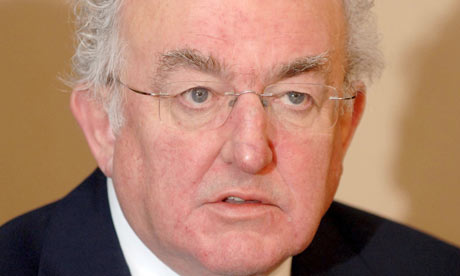 Our three day stint began with a meeting with Lord Brian Griffiths, Vice Chairman of Goldman Sachs. Lord Giffiths kindly gave us his time to talk over what he thought Christian teaching was on wealth and private property, he also entered into a debate over the bonus culture of the banks and the place faith has in the City along with the challenges this presents.
We all found Lord Griffiths' discussion interesting, whether we agreed with all his points or not. It was particularly fascinating to hear the other point of view - hearing what a man from inside the machinations of the City says in defence of bonuses and high spending of the banks. What was especially interesting was Lord Griffiths justification of wealth and private property using the old testament and passages to highlight his points.
After a very tempting buffet lunch including dinky little fish and chips (Ash Wednesday!) we rushed over to the Houses of Parliament to see Lord Alton. Known for his cause driven nature, he spoke of his change from Liberal to an independent due to the difference between the party view and his own on certain issues as well as the importance of making a difference however small.
After a far too short time with Lord Alton (though we covered a lot of ground!) we meandered around parliament with the boys giving us a mini tour. Chris got to properly have a look around for the first time since he'd been in Brussels and we all got to see the amazing view from Andrew's office!
Then it was off to Canary Wharf for Ash Wednesday Mass. Archbishop Vincent Nichols was presiding at a Mass in Barclays Bank plc, which I felt ws an opportunity not to be missed. Arriving early we took a look around the banking district before the start of Mass, and indulging in a snack and tea before Mass (lenten resolutions permitting of course!).
Mass was in the large refectory a few floors up, so after registering and being herded into a huge lift we arrived and were seated. It was nice to have a fellow Newman House resident playing the piano for the Mass as well.
Wednesday was soon over, tomorrow JP Morgan and the City Corporation!
Until next time
Jo-Anne