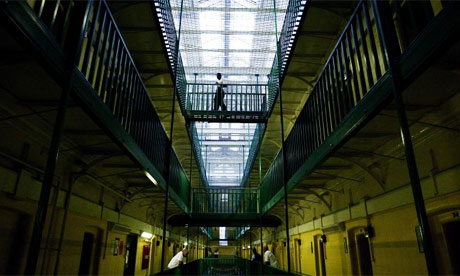 This morning, our attendance at Mass was a little different. Our photographs were taken, our fingerprints scanned and our belongings stowed away, before joining Rt Rev Mgr Malachy Keegan, Principal Catholic Chaplain at the National Offender Management Service- i.e. National Prisons' Chaplain- and scores of inmates in the chapel of Her Majesty's Prison, Pentonville. A
Category B/C prison, it holds some 1200 men, some serving short sentences or beginning longer sentences, but the majority of whom are on remand.
It was in order to house those on remand or awaiting transportation that construction of HMP Pentonville was begun in 1840- making it one of the oldest prisons in the country- and its [then] radical new design of a central hall with five radiating wing blocks, intended to keep prisoners isolated, was used as a prototype for hundreds more throughout Britain and the empire.
Although much refurbishment has taken place, the original four cellblocks are as they were when the prison opened in 1842.
Pentonville is a 'local' prison, and inmates have included playwright Oscar Wilde, historian David Irving and singers Pete Doherty, Boy George and George Michael. Pentonville also hosted the executions of Irish nationalist Sir Roger Casement and the infamous Dr Crippen.
Every prisoner has the right to pursue their declared faith and to participate in relevant acts of worship- even when segregated.
Thus, every prison has a Chaplaincy department, and when a prisoner first arrives, they are usually seen by a Chaplain within 24 hours. The Chaplaincy are able to organise faith activities for all main religions (as recognised by the Prison Service), and can also intercede on matters of religious dress, diet and artefacts.


When we arrived, the Church of England liturgy was in progress- like in the university chaplaincies that we were used to, everyone has their turn. The acting Anglican chaplain actually played the organ for our Mass; it marked a beautiful symmetry with the twin Blessed Sacrament Chapels to the rear. I must admit that the possibility of the Blessed Sacrament's being reserved in a prison never occurred to me, and I hope that the inmates draw strength from it.


Fr Malachy told us that there are always more inmates who wish to hear Mass than can be accommodated, which is both impressive and also sad, as it means that many cannot fulfil the Sunday obligation as they would wish, but Pentonville is to receive a new Chaplain next week, and there is talk of a second Mass to meet demand! Certainly those prisoners who were able to attend were enthusiastic, and clearly glad of the Monsignor's care and attention.


It struck me that many seemed unfamiliar with the words and actions of the liturgy, and that this pointed to prisoners rediscovering their faith as a source of strength while in prison. This was reinforced by the number of men who sought both a blessing and reception of the host at communion.


No matter what certain elements of the press might have us believe, a prisoner's life is not an easy one. Something bad set them on a path that ended in jail, which is tough enough to begin with, and which very often catches them again all too quickly upon release. All too often, we are talking about drugs. Many have fallen into crime because of the effects of drugs, or because of the company that drug abuse often entails, or in seeking to sustain a drug habit. Despite the best efforts of prison authorities, drugs infiltrate the walls, with cases of prisoners becoming addicted while inside, and the dealers are rarely far from the gates, ready to greet those who have been freshly released.
Effective rehabilitation and education can counter this, but it needs a support structure. Fr Malachy spoke to us about projects designed to support those newly released as they build new relationships and lives, and these are estimated to have already saved the prison service in the region of a quarter of a million pounds through lowered recidivism. This is achieved through daily contact with those offering of themselves for this vital work, and is inspired by Christian solidarity.


We discussed the changing pattern of imprisonment in this country, and its effectiveness- or lack thereof. Britain's prisons currently hold almost 90,000 people- think Bath surrounded by barbed wire and fencing- while our French cousins have comparable levels of crime despite detaining a third fewer convicts. There is also the issue of short sentences: why do we hand down sentences of mere weeks or months? It cannot conceivably be for public safety or rehabilitation. It is for punishment, it is to show that retribution has been exacted, but does it bring about change?


The nature of chaplaincy provision is also changing. Cuts have meant that the service must be justified in its current form, and there seems to be little understanding of why it wouldn't do for a general chaplain to provide the majority of pastoral care. There seems to be little appreciation of the different ecclesiologies not only between faiths but also between denominations. A Methodist chaplain could no more hear a Catholic prisoner's confession than a Buddhist chaplain; there are plenty of such examples. Chaplains do much more than lead services, and even if the bureaucrats and civil servants can't quantify that, the governors are more than fully aware of their value.
Catholics are called, both in scripture and by church leaders, to help and support the imprisoned. It is almost eight years since the Bishops' Conference published 'In Place of Redemption', which made a series of recommendations to improve conditions in prisons and also to improve the prospects for rehabilitation, and indeed for true redemption. The title paraphrases a quote from Blessed John Paul II:
"Prison should not be a corrupting experience, a place of idleness and even vice, but instead a place of redemption."
Afterwards, we collected our belongings, handed in our passes and
stepped out into the sunlight. We are fortunate in this
, and we might all offer a prayer for the thousands who, whatever their story, now live lives where they are largely cut off from loved ones, and who are often alone for the majority of their day. We walked on, in search of tea.
For more information on the work of the Catholic Church in England and Wales with regard to prisons, go here
.
Information relating to the prison is taken from insidetime.org, the Ministry of Justice and Wikipedia.
Picture credits:
Ian Waldie/Getty Images
;
Wikimedia; Mazur/catholicchurch.org.uk
;
Vatican via Reuters files
.